Duolingo (DUOL) – The StockMarketNerd's Q3 2023 Earnings Review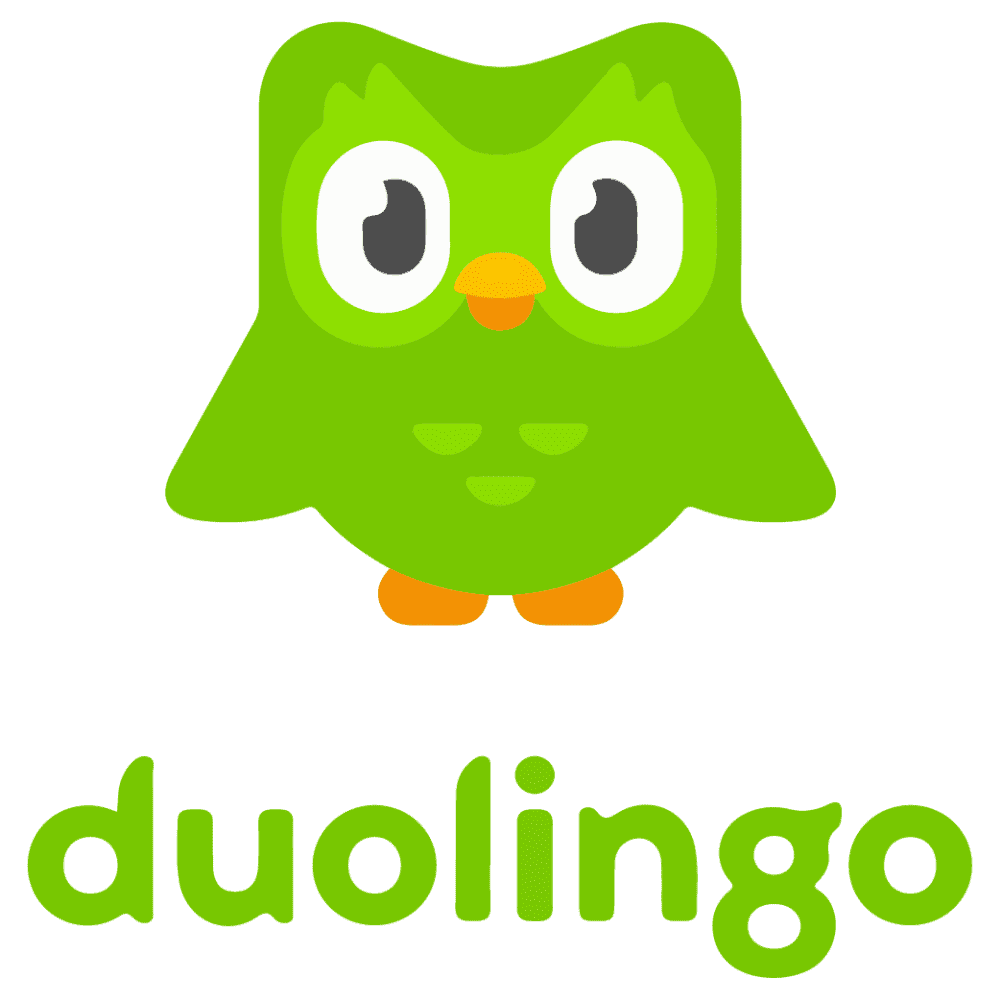 Demand
Beat bookings estimates by 11.3% & beat bookings guidance by 11.3%.

Subscription revenue rose 47% Y/Y.
Advertising revenue rose 10% Y/Y.
Duolingo English Test (DET) Revenue rose 30% Y/Y.
Other Revenue (in-app purchases) rose 86% Y/Y.

Beat revenue estimates by 4.2% & beat revenue guidance by 5.0%.

The 44.8% 3-year revenue compounded annual growth rate (CAGR) compares to 46.9% Q/Q & 60.3% 2 quarters ago.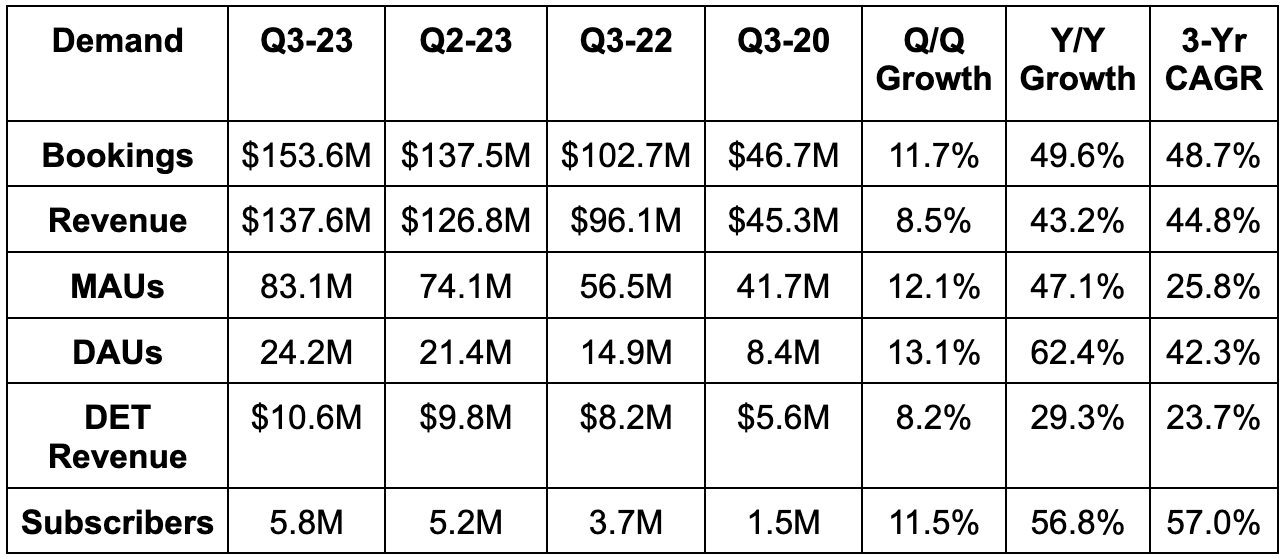 MAU = Monthly Active User; DAU = Daily Active User

Profitability
Beat EBITDA estimates by 20% & beat EBITDA guidance by 27.1%.
Beat -$0.12 GAAP earnings per share (EPS) estimates by $0.19. GAAP EPS positive for the first time thanks to interest income. But that's the luxury of a pristine, debt-free balance sheet and strong cash flows.
It also beat GAAP EBIT loss estimates by more than 50%.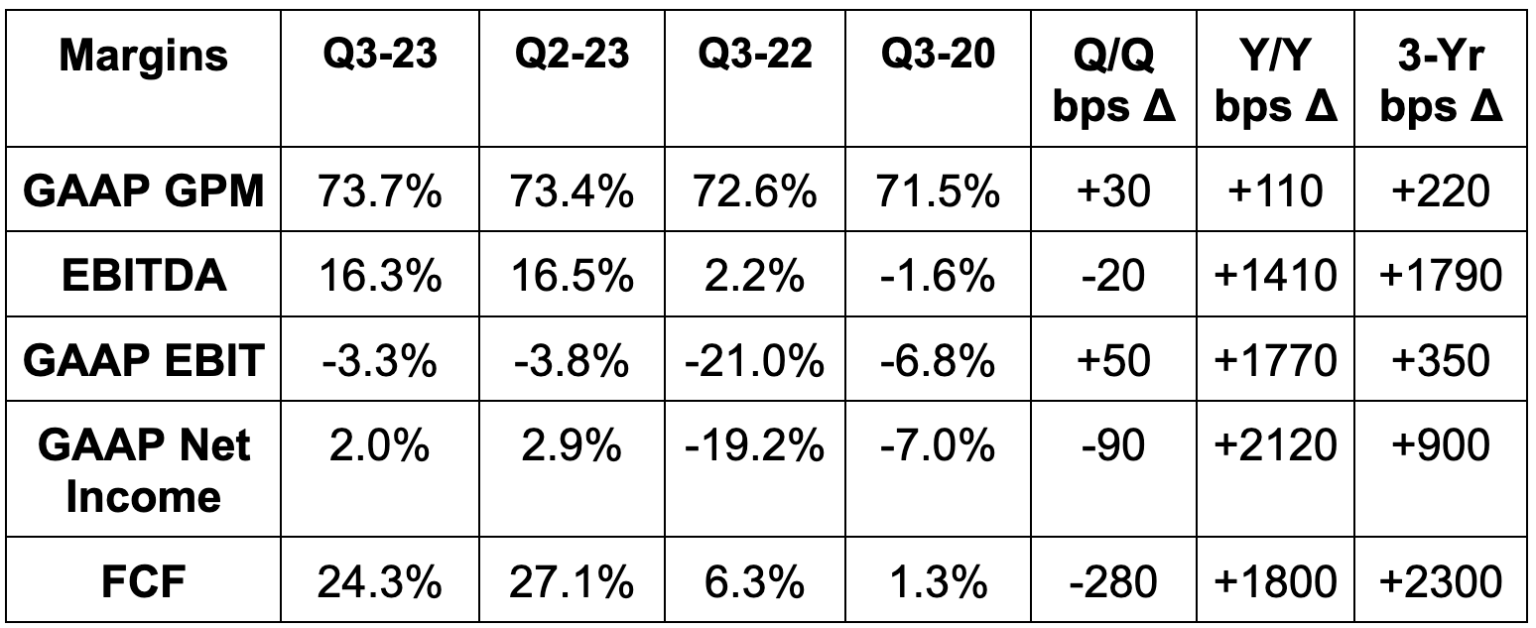 GPM = Gross Profit Margin; FCF = Free Cash Flow; Bps = basis point; 1 basis point = 0.01%

Guidance
Duolingo materially raised its full year guidance across the board. This was not solely powered by Q3 outperformance, but also expectations of outperformance in Q4. Specifically, for Q4:
Beat bookings estimates by 6.9%.
Beat revenue estimates by 3.6%.
Beat EBITDA estimates by 33.0%.
Balance Sheet
$700 million in cash & equivalents. This is approximately 8% of its market cap.
No debt.
Share count rose by 5% Y/Y. This is being heavily influenced by IPO-related awards and must slow. Thankfully, it is fully expected to do so as the firm has consistently guided to 2% annual dilution. It actually lowered this dilution guidance to 1.5%. Good news.
Call & Letter Highlights
The Learning App:
Duolingo is evolving from a language learning app to a general learning app. While Duolingo's revenue represents less than 1% of the current total addressable market, it has broader ambitions than language learning.
It already launched Duolingo ABC for literature, Duolingo Math and just launched Music courses too. Importantly, all of these new courses will be integrated into the central Duolingo app we all know and love. This consolidation, it thinks, will drive greater user value, faster scaling, better engagement and more success overall. It will allow the firm to more quickly borrow insight from the core language courses.
Split Testing Machine:
Split testing means testing a single variable within a user experience with two options to see which is better received. It could be as simple as making a button green or orange to observe which is better for engagement.
Duolingo continues to generate almost all growth organically and continues to vastly outperform across the board. But if external marketing isn't driving this fabulous success, what is? A fixation on product iteration and perfection. This company is a split testing machine as it's constantly testing various pieces of the user experience (UX) to directly observe what works and what doesn't. This leads to a more engaging product, more word-of-mouth growth and less reliance on paid user acquisition. With its unmatched dataset within language learning, this is an edge that it can continue to leverage. Its award-winning, viral and hilarious social media presence certainly helps too.
But when it does sparingly lean into marketing, campaign iteration via ample split testing is working wonders too. As an example, the firm's back to school campaign this year delivered 50% more user growth than the Y/Y period with flat Y/Y costs. That is not a typo. Split testing refines everything they do and drives incredible improvements. It's one thing to guess what will be effective… it's a better thing to observe what actually is. Duolingo observes and reacts.
Duolingo Max:
Duolingo's new premium subscription called Duolingo Max is slowly being rolled out to users. It's seeing "increased usage" of the AI features meant to differentiate that tier from other paid tiers.
Margins:
Duolingo capitalized some incremental R&D costs this quarter vs. the Y/Y period related to its new apps and subscriptions. EBITDA margin would have ~only~ expanded by 1200 bps Y/Y without this help.
Gross margin was helped by lower 3rd party payment processing fees and price hikes for Duolingo English Test. Weak advertising demand was a gross margin headwind during the quarter. Within operating expense buckets, the company enjoyed significant leverage across the board in both GAAP & non-GAAP terms.
Of the $26 million in stock-based compensation, about $7 million was from pre-IPO founder awards. These count as stock comp dollars even if share price targets needed for this comp to vest are never realized. That reality is another reason why I prefer tracking share count growth over stock compensation dollars.
Revenue per Subscriber:
Revenue per subscriber fell by around 8% Y/Y. This was due to better-than-expected user acquisition in lower priced countries as well as foreign exchange headwinds. It is also related to regional pricing changes implemented last year. The firm had one fixed price across all countries. It changed that pricing structure to mirror the GDP of each individual country. It will lap this pricing change next quarter and expects revenue per subscriber growth to resume in 2024. It will also "experiment with raising prices over time."
To see the complete earnings report, check the SEC filings here.