MyMarket
Master the Markets with Confidence
Experience the new standard in self-directed trading with BBAE MyMarket, where we provide you with the tools, resources, and guidance you need to take control of your investments. Our platform is designed to empower investors like you to make confident investment decisions tailored to your unique goals and preferences.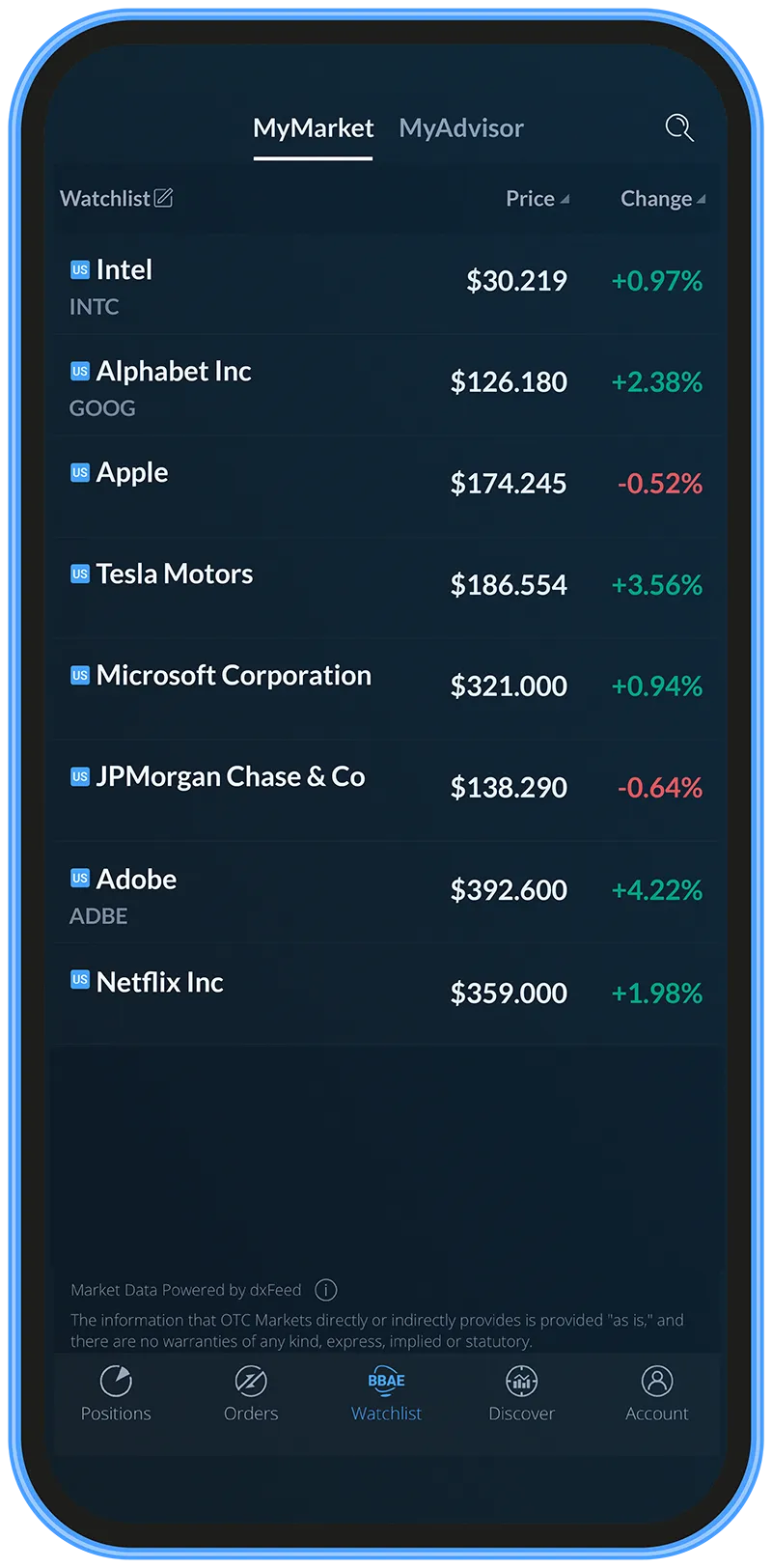 Key Features
Fundamental Data
Assess company financial health with key metrics and ratios, giving you a deeper understanding of a company's performance and potential.
Cost-effective Investing
Enjoy commission-free stock trading and access to free real-time market data, maximizing the potential returns on your investments.
Customizable Charting
Visualize market trends and technical indicators using our customizable charting tools to identify patterns, trends, and opportunities in the market.
Options Trading
Access a wide range of options strategies for different skill levels, from basic long calls and puts to advanced strategies like vertical spreads and calendar/diagonal spreads. This enables you to manage risk, generate income, and potentially profit from various market conditions.
Earnings Calendar
Keep track of upcoming earnings announcements and gain insights into historical performance, allowing you to make informed decisions surrounding earnings events.
Analyst Ratings
Access analyst opinions and recommendations to help you make better investment decisions based on expert opinions and analysis.
Social Trading
Learn from experienced investors by copying their trades, diversifying your portfolio, and benefiting from their knowledge and expertise.
Embark on your self-directed trading journey with BBAE MyMarket and unlock the full potential of your investments, guided by our comprehensive tools and resources.
Get started today!
Why BBAE?
Investing Reimagined:
However You Choose to Invest, We Guide You There
Experience BBAE, the investment platform designed with you in mind. We prioritize your needs by aligning incentives, offering a wide range of investment options, and providing industry-leading content resources. Bid farewell to excessive trading as we focus on maximizing your long-term returns. Take control with self-directed trading supported by top-tier research, explore thematic and famous investor portfolios, or opt for our actively managed smart beta portfolios. We empower you with comprehensive content resources to make informed investment decisions.
The BBAE Difference
MyMarket: For hands-on investing, take the wheel with trading tools, data, and education for self-directed investors. Choose your own adventure.
Discover: For exploration and ideas, engage cruise control and explore curated investing themes, sectors, and portfolios. Learn strategies employed by the world's most successful investors.
MyAdvisor: For hands-free investing, sit back and relax while our digital wealth management platform and portfolios tailored to you handle the driving. Achieve your goals powered by expertise that generates results.
Why Choose BBAE?
Solutions for Any Level: Offering control or guidance, we support your financial journey, tailored to your unique needs.
Decades of Data and Experience: Leveraging insights and smart beta indices proven to outperform the market, delivering optimal outcomes.
Innovative Technology: Enabling personalized solutions through digital platforms, based on your goals and interests.
Backed by Knowledge Leaders: Working with renowned partners to ensure expertise and a track record of performance.
For investing tailored to you through choice or guidance, experience the BBAE difference. Reimagine your journey to financial freedom on your own terms. However you choose to invest, we guide you there.