Introducing BBAE's MyAdvisor – Your Solution to Smart Beta Investing
Hello again, it's Barry Freeman, Co-Founder and CEO of BBAE, bringing you the fifth episode of the BBAE Blueprint. This time, we're zeroing in on BBAE's MyAdvisor, an integral part of our platform designed to optimize and simplify your investment journey.
At BBAE, our customer-centric philosophy ensures that every feature we build aligns with your interests and long-term financial goals. One key insight we've garnered is that although active trading can be exciting, overtrading often has a detrimental impact on long-term investment returns. With this in mind, we've developed BBAE's MyAdvisor.
MyAdvisor employs Smart Beta investing – a groundbreaking strategy that combines the benefits of both passive and active investing. It seeks to outperform traditional market-cap-weighted indexes using alternative weighting schemes based on various quantitative factors, such as value, growth, and quality. By methodically exploiting market inefficiencies, this strategy aims to generate excess returns over time.
What does this mean for you? In essence, MyAdvisor simplifies investing by leveraging Smart Beta strategies through partnerships with market-leading asset allocators. Advanced algorithms manage your investments, adjusting to market variations and routinely rebalancing your portfolio for optimized performance.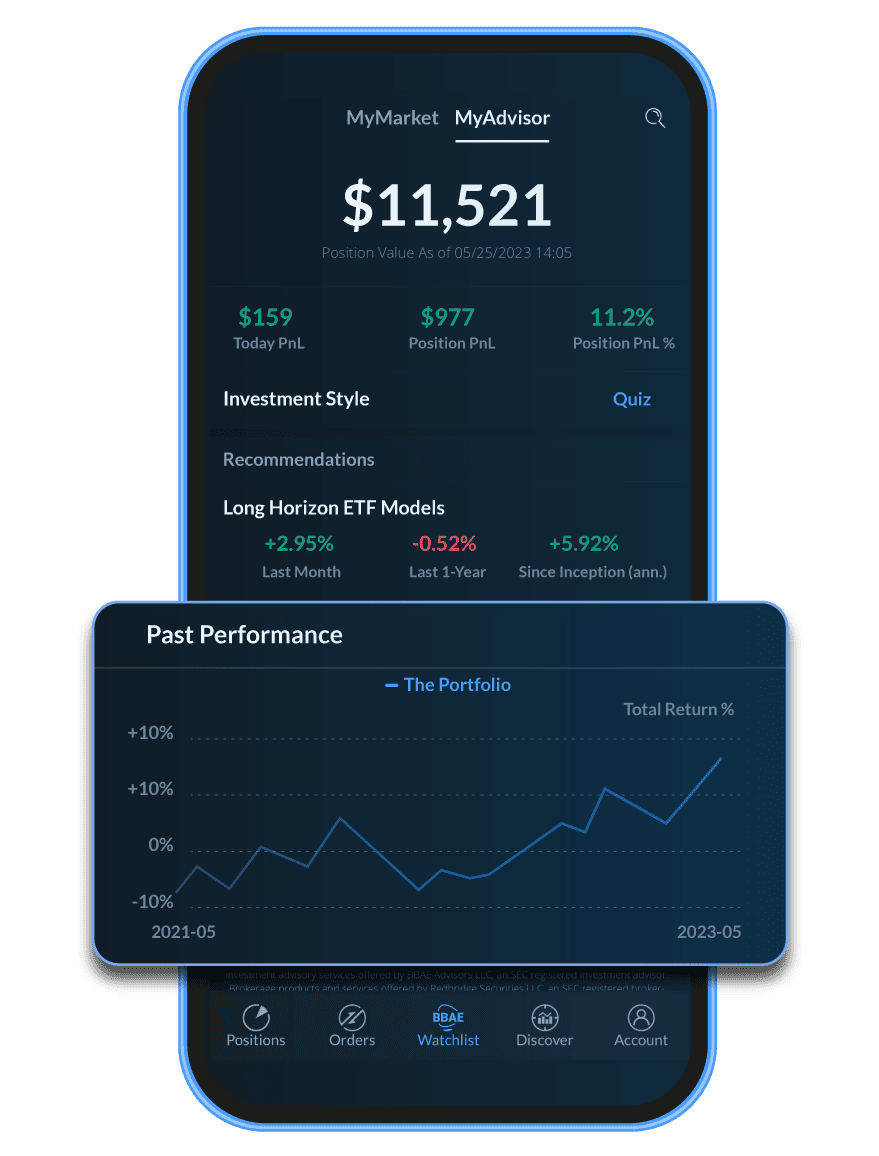 Beyond being a hands-off tool, MyAdvisor provides personalized investment guidance tailored to your unique risk tolerance and financial objectives. We conduct a risk assessment via a comprehensive questionnaire to curate your portfolio for targeted returns while maintaining a risk level you're comfortable with.
With MyAdvisor, transparency isn't just a buzzword – it's a cornerstone of our approach. Our straightforward pricing and low minimums democratize Smart Beta investing for all investors. There are no hidden costs or fees – just a clear, direct pathway to your financial future.
In summary, BBAE's MyAdvisor is more than just a tool; it's your intelligent investing companion, designed to enhance your investing experience through the power of Smart Beta strategies, personalized guidance, and unwavering transparency.
Now, keep your eyes on this space! BBAE's MyAdvisor is constantly evolving, and we've got a slew of exciting updates and developments in the pipeline that we can't wait to share with you.
Stay tuned for the next and final episode of the BBAE Blueprint, where we explore the core values that guide BBAE. Remember, a special sign-up bonus awaits when you open your BBAE account today. The bonus is automatic when you open your account, so get it while it lasts.
Here's to your investment journey,
Barry