Discover
Explore. Identify. Invest.
Your Gateway to Curated Investment Themes, Sectors, and Legendary Investor Portfolios.
BBAE Discover offers users a curated collection of investment themes, market sectors, and the portfolios of well-known investors to explore. Empower your self-directed trading decisions by aligning them with your interests and values, while gaining insights into the strategies of successful investors.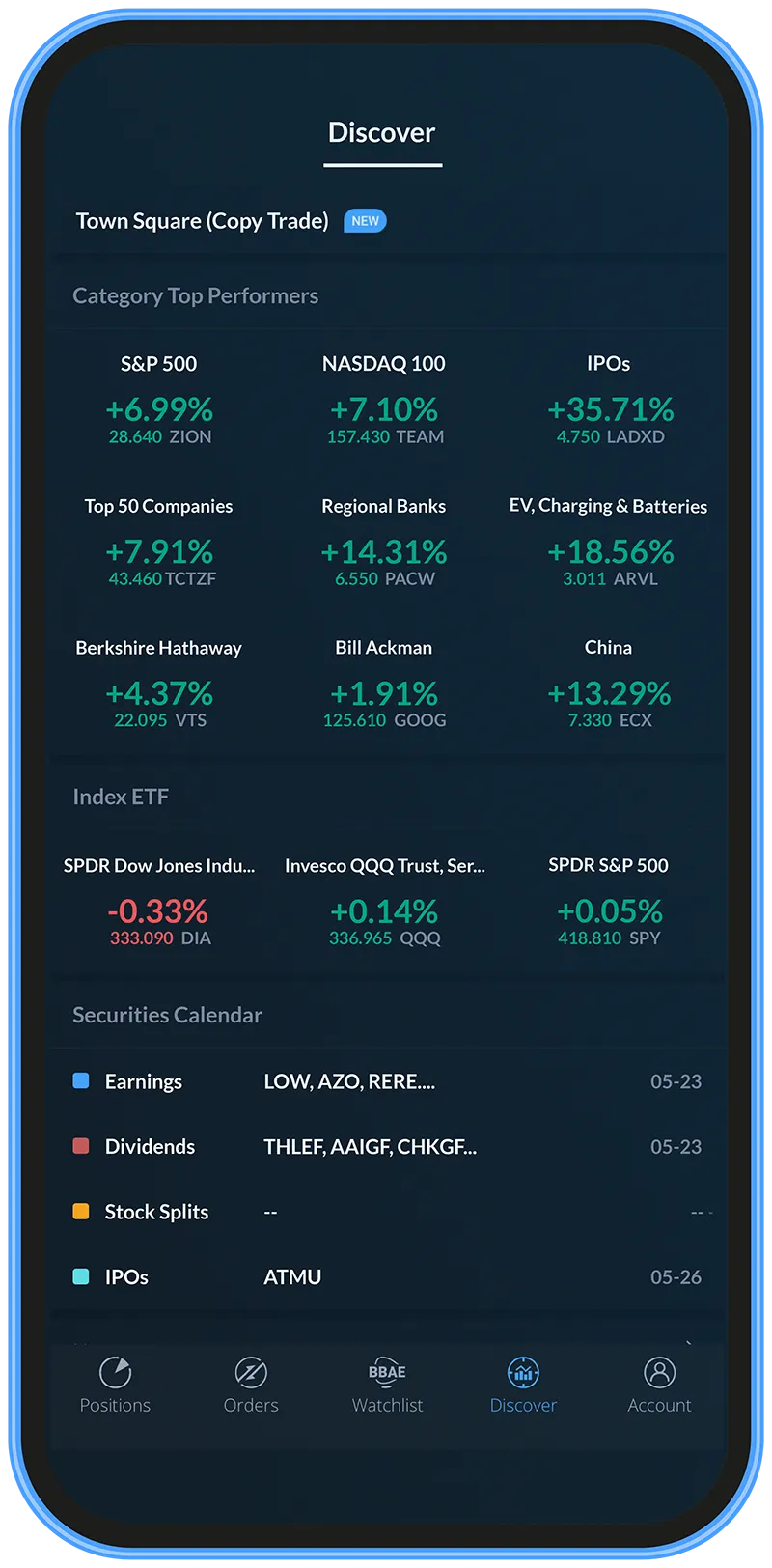 Key Features
Curated Investment Themes
Access handpicked stocks and portfolios based on investment themes and market trends, such as clean energy, artificial intelligence, and e-commerce. Discover a diverse range of opportunities that suit your investment preferences.
Well-known Investors' Portfolios
Gain insights into the portfolios of top investors like Warren Buffett, Bill Ackman, and Stan Druckenmiller. Learn from their strategies and successes, and apply these insights to your own investment decisions.
Market Sector Exploration
Dive into various market sectors, including technology, healthcare, and finance, to identify potential opportunities and align your investments with your values. Stay informed on sector-specific trends and dynamics to make well-informed decisions.
IPO Opportunities
BBAE is your gateway to Initial Public Offerings (IPOs) across a diverse spectrum of companies, big and small, offering investors a chance to participate in the growth of promising companies from the ground up. With BBAE, be a part of the success story of tomorrow's industry leaders.
In-depth Trends Analysis
Stay informed on industry trends, macroeconomic factors, and market dynamics that can shape your investment landscape. Leverage our comprehensive research and analysis to make confident, data-driven decisions.
With BBAE Discover's curated themes, sectors, and portfolios, gain unparalleled access to a diverse range of investment ideas tailored to your interests and values. Embark on your exploration journey today and unlock the potential of your investment portfolio!
Get started today!
Why BBAE?
Investing Reimagined:
However You Choose to Invest, We Guide You There
Experience BBAE, the investment platform designed with you in mind. We prioritize your needs by aligning incentives, offering a wide range of investment options, and providing industry-leading content resources. Bid farewell to excessive trading as we focus on maximizing your long-term returns. Take control with self-directed trading supported by top-tier research, explore thematic and famous investor portfolios, or opt for our actively managed smart beta portfolios. We empower you with comprehensive content resources to make informed investment decisions.
The BBAE Difference
MyMarket: For hands-on investing, take the wheel with trading tools, data, and education for self-directed investors. Choose your own adventure.
Discover: For exploration and ideas, engage cruise control and explore curated investing themes, sectors, and portfolios. Learn strategies employed by the world's most successful investors.
MyAdvisor: For hands-free investing, sit back and relax while our digital wealth management platform and portfolios tailored to you handle the driving. Achieve your goals powered by expertise that generates results.
Why Choose BBAE?
Solutions for Any Level: Offering control or guidance, we support your financial journey, tailored to your unique needs.
Decades of Data and Experience: Leveraging insights and smart beta indices proven to outperform the market, delivering optimal outcomes.
Innovative Technology: Enabling personalized solutions through digital platforms, based on your goals and interests.
Backed by Knowledge Leaders: Working with renowned partners to ensure expertise and a track record of performance.
For investing tailored to you through choice or guidance, experience the BBAE difference. Reimagine your journey to financial freedom on your own terms. However you choose to invest, we guide you there.