In the world of investing, the accessibility and affordability of investment strategies have often been a challenge for many investors. Traditional smart beta strategies, for instance, have historically been difficult to access, typically requiring large portfolios and being available only through expensive private banks or traditional asset managers. These strategies often involve managing portfolios with more than 300 different stocks, thus needing a significant investment amount to gain real market exposure.
At BBAE, we believe that everyone should have access to innovative, effective investment strategies. That's why we've leveraged technology and strategic partnerships to democratize access to smart beta strategies, through our BBAE MarketGrader Smart Beta Portfolios.
Fractional Investing: Bringing Smart Beta to All
One of the key ways we have achieved this is through fractional investing. Fractional investing allows you to buy a piece of a stock, rather than the whole stock itself. This innovative approach enables investors to access a smart beta portfolio with over 300 stocks with a minimum portfolio size of as little as $2,000.
Previously, such extensive diversification would have required a much larger portfolio size. But fractional investing makes it possible for investors with smaller portfolios to gain exposure to smart beta strategies. This opens up the associated benefits of diversification, risk management, and the potential for enhanced returns to a far wider audience than ever before.
Transparency and Control
In addition to being affordable and straightforward, the BBAE MarketGrader Smart Beta Portfolios prioritize complete transparency. With our investment solution, you will have a clear understanding of where and how your money is being invested, granting you greater control over your financial future. Unlike holding an ETF where you may be uncertain about the specific holdings, in our portfolios, you have full ownership of all securities in your account, and you will be informed about every adjustment made to the portfolio. This level of transparency ensures that you are fully aware of the composition and changes within your portfolio, allowing you to make informed decisions about your investments.
Automatic Rebalancing
With the introduction of the BBAE MarketGrader Smart Beta Portfolios, we're not only making these strategies accessible but also easy to manage. Our technology automatically rebalances your portfolio, ensuring it remains aligned with your investment goals and risk tolerance. This means you don't have to worry about constantly monitoring and adjusting your investments — we do the work for you.
BBAE's Commitment
At BBAE, we're committed to breaking down barriers in the world of investing. By leveraging technology, strategic partnerships, and innovative practices like fractional investing, we're making advanced investment strategies like smart beta accessible to all.
By choosing the BBAE MarketGrader Smart Beta Portfolios, you're not just choosing a cost-effective, risk-adjusted, and potentially high-return investment strategy. You're also choosing a future where investing is democratized, where everyone has the opportunity to grow their wealth, regardless of the size of their portfolio.
Stay tuned for more updates as we continue to innovate and democratize investing, always with our primary focus in mind — doing what's best for our customers. Their long-term wealth growth is, and will always be, at the heart of BBAE.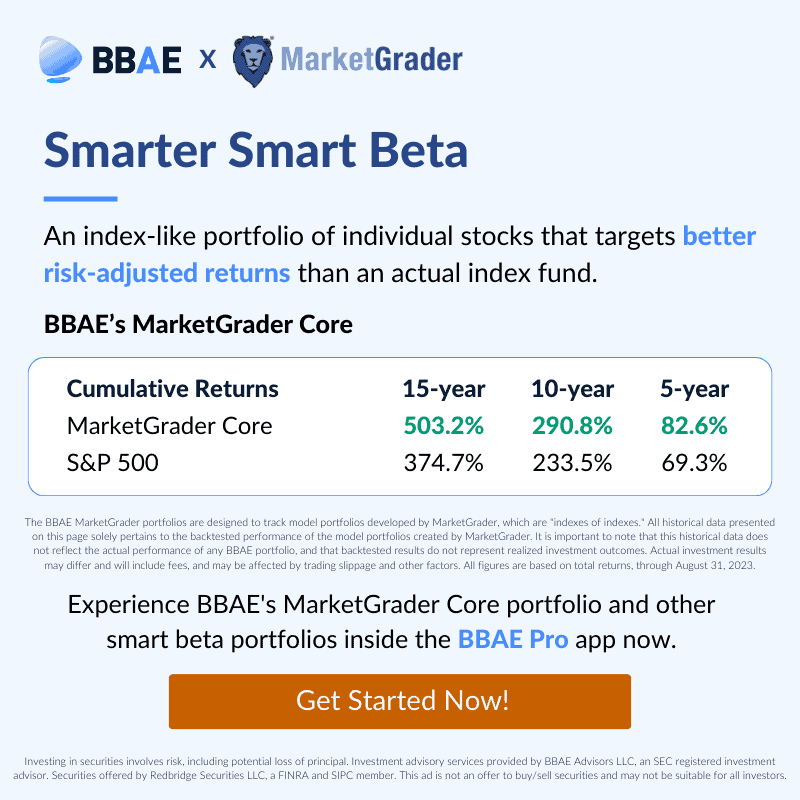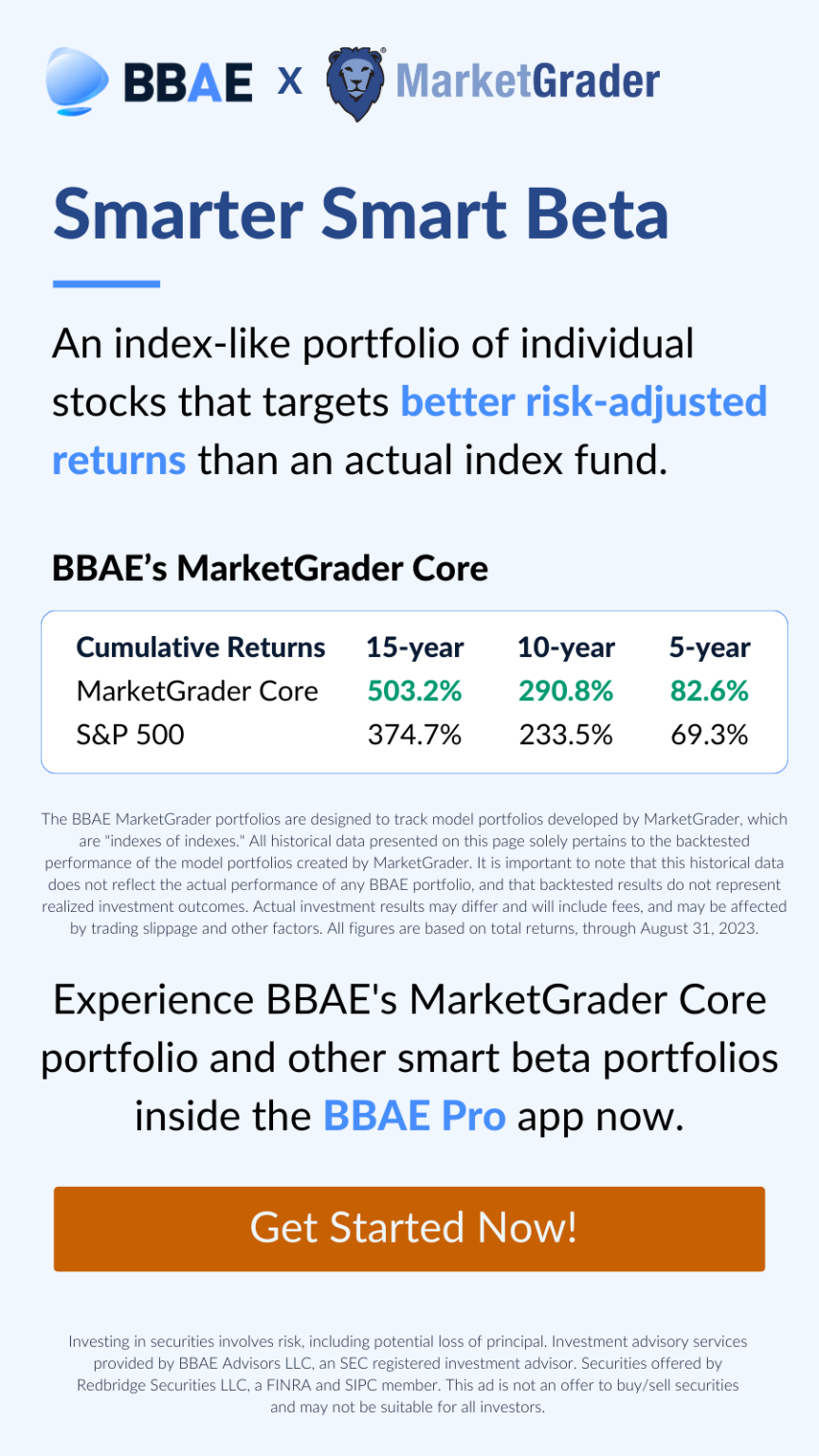 Disclaimer: This article is for informational purposes only and is neither investment advice nor a solicitation to buy or sell securities. Investing carries inherent risks. Always conduct thorough research or consult with a financial expert before making any investment decisions.