The global shift towards sustainable energy solutions, coupled with significant reductions in the installation costs of solar energy, has led us to shine some light on public companies operating in the PV energy sector. As the world intensifies its efforts to find alternatives to fossil fuels, solar energy stands out as a beacon of hope. A pivotal achievement for solar energy in recent years has been attaining grid parity. This is achieved when the cost of harnessing solar energy matches or falls below the cost of using power from traditional fossil fuel sources like coal, oil, and natural gas. This milestone not only highlights the economic feasibility of solar energy but also its potential to reshape the global energy landscape.
Historical Overview
Between 2000 and 2007, the solar energy sector witnessed transformative growth, with investments from the global private sector soaring almost twenty-fold, especially from 2004 to 2007. This surge wasn't solely due to technological advancements. Early on, governmental initiatives, notably the U.S. Department of Energy's Solar Energy Technologies Program (SETP), laid the groundwork. However, by the mid-2000s, private investments, from venture capital to public equity, became the primary drivers, pushing the industry to new heights.
Today, the solar industry stands as a pillar in the global transition to renewable energy. The groundwork and investments of the early 2000s have culminated in solar technology that's more efficient and accessible. With global governments setting ambitious renewable targets and corporations increasingly adopting solar for their operations, the industry's growth is further amplified. Additionally, innovations in energy storage, such as batteries, have tackled solar energy's intermittency, making it a more dependable energy source integrated into many national power grids.
The Cost Dynamics and Competitive Edge
Over the last ten years, the solar photovoltaic (PV) industry has seen transformative advancements, largely fueled by substantial reductions in costs. Data from IRENA indicates that in 2021, the Levelized Cost of Electricity (LCOE) for new large-scale solar PV installations was a mere USD 0.048 per kWh, marking a 13% decrease compared to the previous year. What's even more striking is that between 2010 and 2021, there was an astounding 88% drop in the global average LCOE for such projects.
This dramatic cost reduction has paved the way for solar energy to achieve grid parity. Reaching this milestone accentuates the feasibility of solar power, underscoring its potential to emerge as a primary energy source and showcasing its edge over traditional energy forms. As more and more regions around the world witness solar energy reaching grid parity, it further cements its pivotal role in steering the world towards a greener energy landscape.
Investment Avenues in the Public Equity Markets
For those looking to invest in solar energy, the public markets offer multiple avenues:
Shares of Publicly Traded Solar Companies: Investors can purchase shares of companies involved in manufacturing solar panels or those that develop and operate solar farms. For a full list of the stocks in the BBAE Discover curated portfolio for Solar Energy (PV), please click here, or find them inside the BBAE app here.
Exchange Traded Funds (ETFs): ETFs focused on renewable or specifically solar energy allow investors to diversify their portfolios. They pool together various stocks within the sector, mitigating risks associated with individual companies. Examples of Solar ETFs are TAN, the Invesco Solar ETF, and RAYS, a Solar ETF by Global X.
BBAE Discover: Navigating the Solar Energy Landscape
Navigating the world of Solar Energy (PV) can be daunting. BBAE Discover simplifies this journey by providing valuable insights and resources specifically related to solar energy companies in the public market:
Curated Investment Themes: Explore stocks and portfolios specifically related to Solar Energy (PV). BBAE Discover offers a comprehensive overview of potential investment opportunities in the solar energy sector, focusing on leading solar equipment manufacturers, solar project developers, and other relevant companies.
In-depth Trends Analysis: Stay updated on the latest trends, opportunities, and challenges within the Solar Energy (PV) space. BBAE Discover provides in-depth analysis of market trends, technological advancements, policy changes, and market forecasts that impact the solar energy industry.
Market Sector Exploration: Delve into the various sectors within the Solar Energy (PV) ecosystem. BBAE Discover allows you to explore the different facets of the solar PV industry, including solar panel manufacturing, solar installation companies, solar project financing, and emerging technologies related to solar energy generation and storage.
BBAE Discover is more than just a tool; it's an investment compass, guiding investors through the intricate landscape of Solar Energy. By aligning trading decisions with interests and values, BBAE Discover empowers investors to invest with clarity and confidence in sectors that are redefining transportation and shaping the future.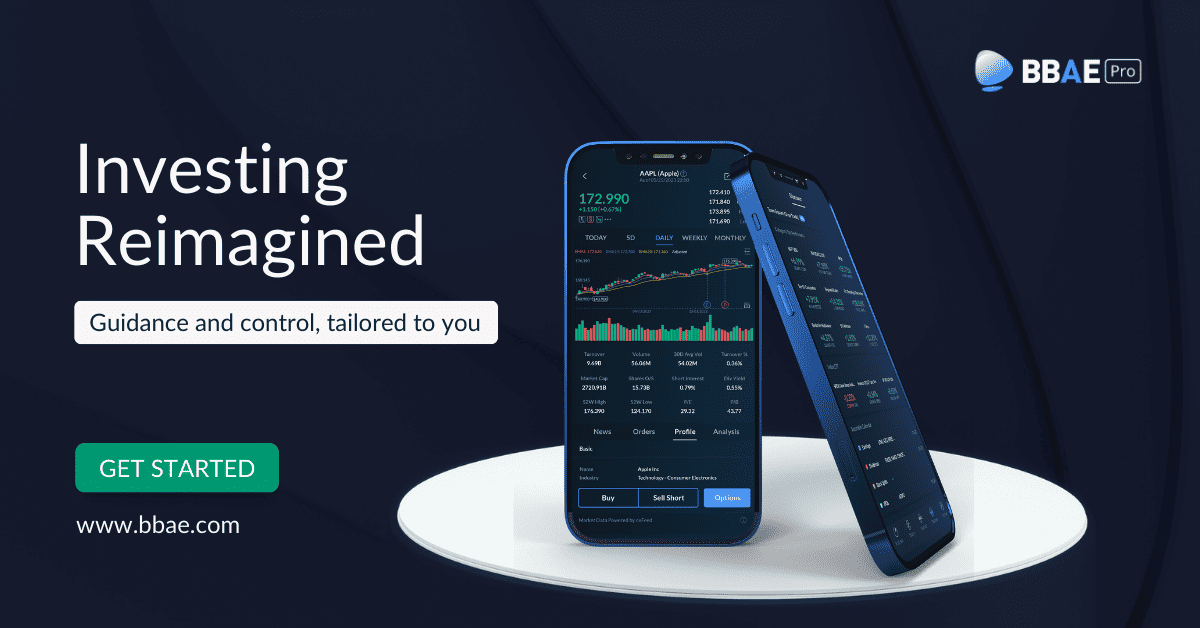 Disclaimer: This article is for informational purposes only and is neither investment advice nor a solicitation to buy or sell securities. Investing carries inherent risks. Always conduct thorough research or consult with a financial expert before making any investment decisions.