We are thrilled to announce an exciting partnership between BBAE and MarketGrader, a pioneer in smart beta indexes. This collaboration brings together the expertise of two industry leaders to introduce a suite of model portfolios of U.S. stocks. MarketGrader's Smart Beta Model Portfolios are specifically designed to deliver superior risk-adjusted returns by identifying and owning the highest quality companies in the U.S. market.
The Power of Smart Beta Portfolios
Smart beta investing has gained significant popularity in recent years for its ability to provide investors with a smarter way to build their financial future. Unlike traditional index ETFs, smart beta portfolios go beyond traditional market capitalization weighting and incorporate factors such as company quality, growth potential, and valuation. By leveraging MarketGrader's extensive experience in equity research and innovative fundamental analysis system, BBAE is able to offer investors a range of smart beta portfolios that aim to outperform traditional index funds.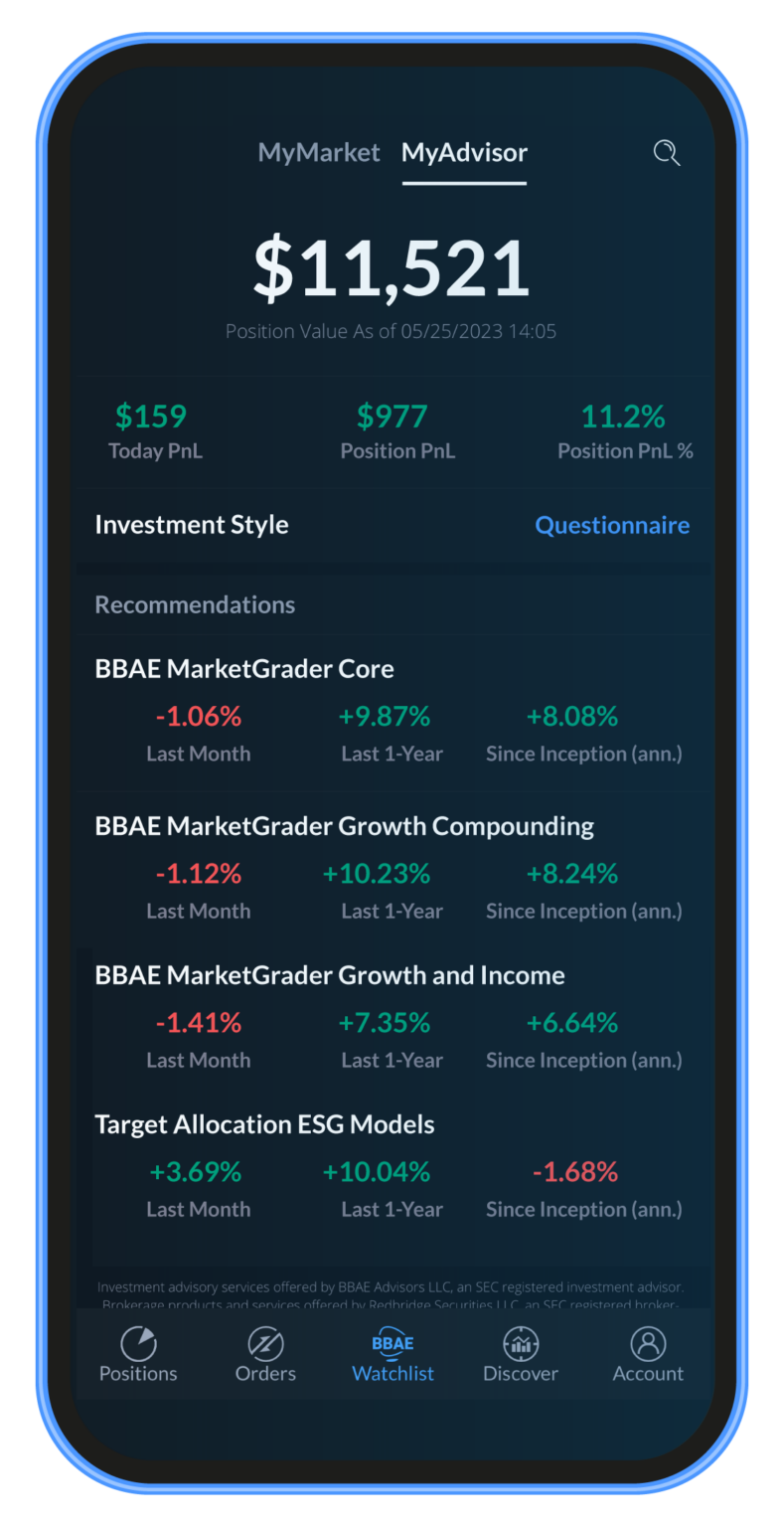 Smart Beta Portfolios through BBAE MyAdvisor
The BBAE MarketGrader Core Portfolio: The Core portfolio, consisting of 300 stocks, is designed to work as the backbone of a strategy focused on long-term capital appreciation. It blends large-, mid-, and small-cap stocks optimally to balance maximum returns without taking unnecessary risks at the company or portfolio level. The Core portfolio is benchmarked to the S&P 500 Index, and like BBAE's other smart beta portfolios, it can be paired with a BBAE Fixed Income model inside BBAE's MyAdvisor platform.
The BBAE MarketGrader Growth Compounding Portfolio: Designed for investors willing to take slightly more risk than the Core portfolio, the Growth Compounding Portfolio blends a higher percentage of mid- and small-cap companies with a large- cap portfolio that rewards growth-oriented companies. It is benchmarked to the S&P 500 Index.
The BBAE MarketGrader Growth and Income Portfolio: The 100-stock Growth and Income Portfolio is designed for investors who are looking for steady dividend payments from their equity portfolio without giving up long-term capital appreciation. The yield-weighted Growth and Income Portfolio targets a 4.5% to 5% annual dividend return, in addition to a price return that seeks to match, at a minimum, the market's beta return. The portfolio's target dividend yield is well in excess of the S&P 500's average dividend yield. The portfolio is benchmarked to the Dow Jones Select Dividend Index.
How It Works
MarketGrader's proprietary 24-factor methodology rates every investable company in the U.S., focusing on sustainable growth and reasonable prices. BBAE leverages this daily rating system to select constituents for its smart beta portfolios. These portfolios are designed to automatically rebalance every six months, ensuring optimal performance. Unlike index funds, BBAE's managed account structure allows investors to own shares (including fractional shares) of each security directly, providing full transparency.
We're hoping to give investors a better alternative to traditional index ETFs, in a structure that gives full transparency about each holding, and which investors can buy with a single click and minimum account size of just $2,000. The collaboration between BBAE and MarketGrader aims to empower BBAE's clients to achieve their financial goals through smarter investment strategies.
"The MarketGrader Smart Beta Model Portfolios, now available to BBAE clients, represent the ultimate expression of our goal to empower investors with tools to build lasting wealth," said Carlos Diez, Founder & CEO of MarketGrader. "Our methodology is grounded on the belief that consistent creators of economic value are the best generators of long-term shareholder value, and our tireless mission is to help investors find and own such companies."
The strategic partnership between BBAE and MarketGrader marks a significant step in the realm of smart beta investing. By combining BBAE's innovative investment management platform with MarketGrader's expertise in equity research and smart beta indexes, investors can now access a range of smart beta portfolios designed to deliver superior risk-adjusted returns. To learn more about these portfolios and start your journey to smarter investing, visit bbae.com/portfolios.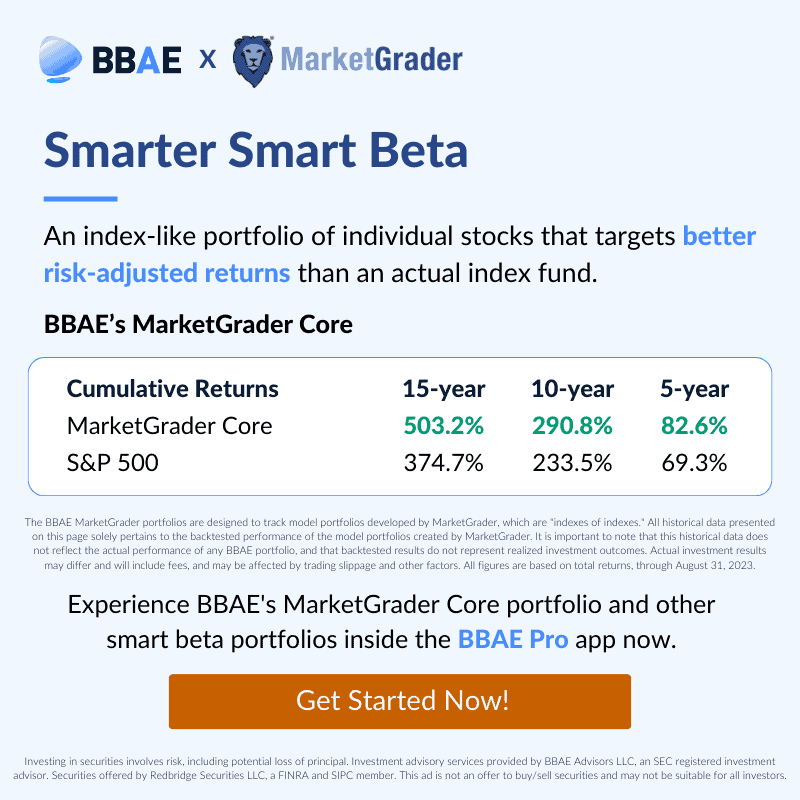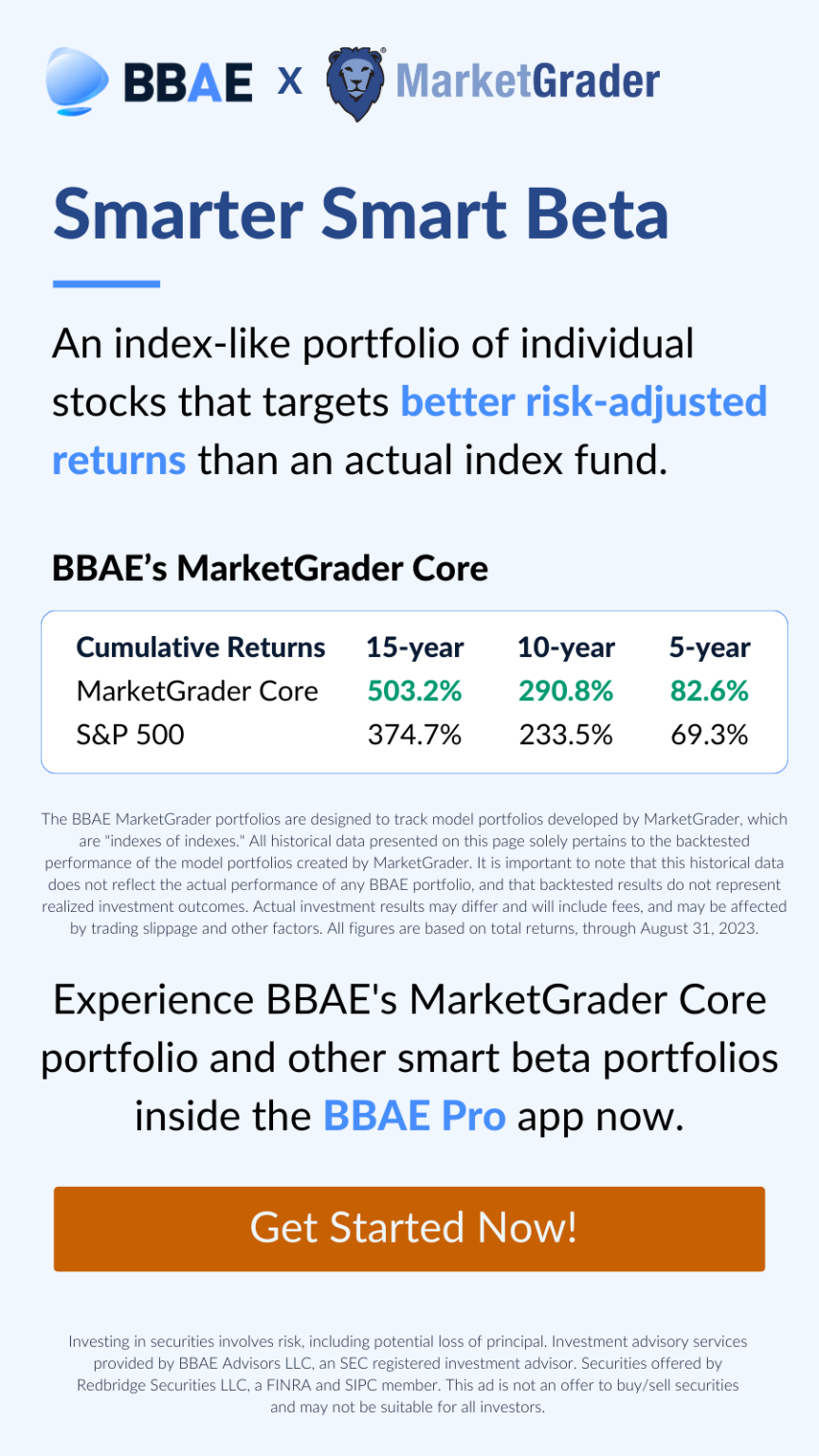 Disclaimer: This article is for informational purposes only and is neither investment advice nor a solicitation to buy or sell securities. Investing carries inherent risks. Always conduct thorough research or consult with a financial expert before making any investment decisions.