Insider trading has been more "allowed" than you expect. I published my latest piece on Benzinga about this.
The US does not even have a statutory law banning it (egregious cases get punished under charges like wire fraud and mail fraud).
Seeking to give insiders a way to trade legitimately, the US SEC roughly 20 years ago established 10b5-1 plans, which in spirit give insiders leeway to set prearranged trading schedules, to avoid the appearance of impropriety.
Problem is, if you're a nefarious insider looking to trade on knowledge you shouldn't trade on, avoiding the appearance of impropriety is exactly what you want.
Take a look at what my friend Alan Jagolinzer found about the pricing of 10b5-1 trades. Buy orders come at the lowest prices and sell orders come at the highest prices. Clairvoyance?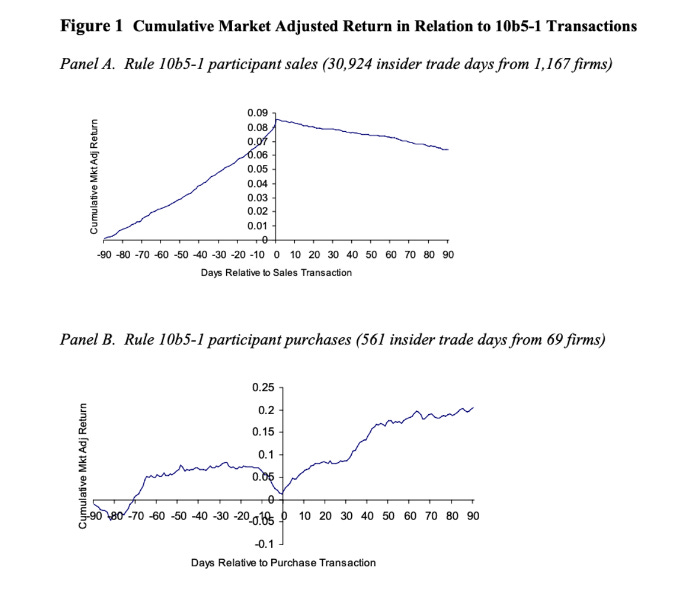 Insiders have had a field day abusing 10b5-1 plans — until this year, when the SEC levied additional restrictions. Will they stop the cheating? Will insider trades remain a good information signal for tag-along investors?
Read my Benzinga piece to find out.
Jamesp.s. Whether or not the insider trading gravy train continues – and it just may, even if in muted form, because insiders were unduly profiting before 10b5-1 plans anyway – you can use the BBAE app to find out what top outside investors (Stanley Druckenmiller, Warren Buffett, and others) are buying and selling. It's easy to open a BBAE account – we promise – and making even a modest initial deposit is all you need to check out the tools we've lined up for you. Click here to have a closer look.